REMSAT
REMSpC Spray Analysis Tool
Version 1.31b
June 13, 2003



Download at bottom of page




| | |
| --- | --- |
| | REMSAT facilitates the planning, conduct and analysis of aerial treatment programs. Geo-referencing of aerial or satellite images using GIS or DGPS survey information provides visual layouts that can be used to digitize spray blocks for download to aircraft guidance systems. Post-spray, operational treatment programs can be analysed for application uniformity, flight-line guidance and treatment program efficiency using REMSAT. |
Most of the following images can be seen in a blow-up view by clicking on them:
Shown above is the main REMSAT window, displaying the flight path and application lines of an actual spray. Shown in the bottom corner is the spray statistics window, which displays spray time, turn time, target application rates, cross-track errors and DGPS quality: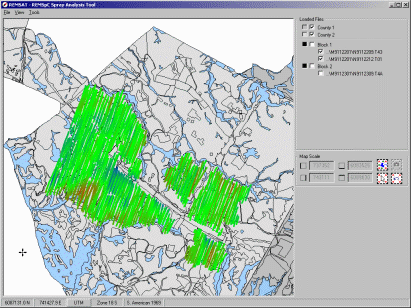 The graphical GIS interface allows applicators to easily assess the uniformity and rate of application.
Digitizing block boundaries can be done over georeferenced images or GIS data using a point-and-click process.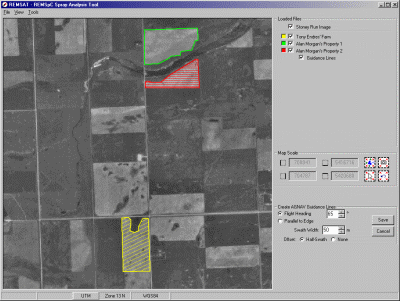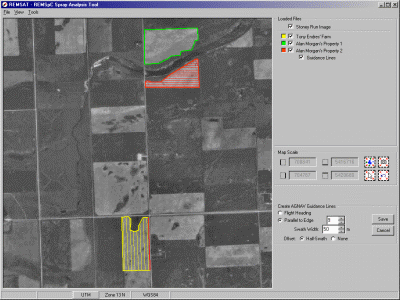 Digitizing an AG-NAV guidance file involves simply choosing a direction or block side with which to align, then choosing a swath width, all of which is immediately updated on-screen for verification. These files can then be saved and output to an aircraft's AGNAV guidance system.
Here we can see three separate blocks all being optimized simultaneously. (See below for a description of optimization) These blocks and guidance lines were all digitized in REMSAT using the methods mentioned above.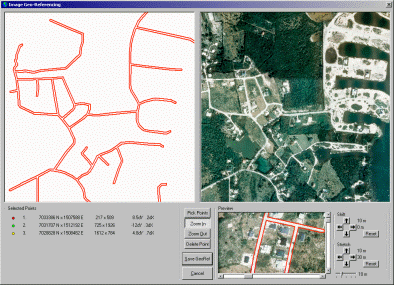 Here is a view of the georeferencing screen. Georeferencing is as easy as identifying distinct features in the GIS data then matching them up with features on the image. The whole process is simply a point-and-click operation. Manual entry of specific coordinates can also be performed. Once several points have been referenced, the image can be shifted and/or stretched beneath the GIS data to make any desired adjustments.
Future plans include meteorology collection and the real-time optimization of flight lines based on the collected data. Optimization involves shifting the flight lines upwind based on an aircraft's spray characteristics, with the goal of using spray drift to attain more uniform coverage while using less product. Shown here is a hypothetical view of an optimized spray program, showing block boundaries and spray lines superimposed on GIS data and a georeferenced image. Optimized spray lines are drawn yellow and have been shifted to the east of the block. In the bottom right corner is meteorological data that is being collected and loaded into the program.
Here, the US states have been drawn over a georeferenced relief map of North America. The red boundaries represent metropolitan areas.
REMSAT's new 'WebUpdate' feature allows you to easily update REMSAT whenever new versions or updates are released. WebUpdate checks the REMSpC website for a new version; if one exists, it downloads and installs it for you.
View the Instruction Manual
(~1.2MB)

-
Requires Adobe Acrobat Reader.



Download the REMSAT installation
(~4.5MB)
-
Please note: the demo version of REMSAT will only open the demo files, available below. To load other files, you'll need to purchase the full version.


-
REMSAT has been re-released as version 1.31b after it was discovered that the previous self-extracting package would not run on some versions of Windows 98. This has been corrected. REMSAT itself is unchanged, so if you successfully installed REMSAT v1.31, you do not need to download this package.


Download the demo files
(~2.3MB)

-
Simply download and run the self-extracting zip archive.

-
For the included session files to work properly, you must extract the demo files to 'C:\REMSAT Demo Files'.